this is a super fun week of the dinner menu planner!
2 soups, lots of veggies, and a traditional st. patrick's day dish!
enjoy!
Homemade Mushroom Soup
Fresh, firm and plump mushrooms – swiss brown, white button, shiitake, portobello or a mix of them all – soaked in milk and cream, spiced with aromatic thyme and bay leaf, and a dash of freshly ground pepper and a pinch of Christmas nutmeg.
You'll never look at another can of mushroom soup again.
Homemade Mushroom Soup by Season with Spice
Serves 2
Ingredients:
300g or 2 cups fresh mushrooms - cleaned and chopped finely (I used a mix of swiss brown and white button)
1 tbsp olive oil
3 cloves garlic - chopped
1 tbsp butter
1 tbsp chopped fresh thyme or 1 teaspoon dried thyme
1 - 2 bay leaf
1 tsp Worcestershire sauce
1 cup chicken or vegetable stock
1 tbsp flour dissolved in 1 tbsp water
Salt to taste
1/2 cup heavy cream
1/2 cup milk
Dash of nutmeg
Freshly ground black pepper to taste
Fresh parsley or thyme for garnish
Method:
1. Heat olive oil in a sauce pan. Add butter and lightly sauté garlic on medium heat.
2. Add in mushrooms, thyme, bay leaf and Worcestershire sauce. Cook over medium heat for 5 minutes, or until the moisture from the mushrooms disappears.
3. Add in chicken broth. Stir occasionally until broth boils, then reduce heat and simmer for 10 minutes.
4 Add diluted flour in, and stir constantly (while simmering) until the mixture thickens. Season with salt and nutmeg. Taste and adjust seasoning.
5. Finally, add milk and heavy cream, and bring to a simmer. Turn heat off.
6. Serve hot in your soup bowl. Add freshly ground black pepper. Garnish with fresh parsley or thyme if you have them on hand.
Orange and Balsamic Chicken
Squeeze the oranges over the chicken and eat with crusty bread to soak up the sauce.
Prep Time 5 minutes
Total Time 20 minutes
Serves 4
Ingredients
4 bone-in, skin-on chicken thighs (about 1 1/2 pounds total)
Coarse salt and ground pepper
1 tablespoon extra-virgin olive oil
2 tablespoons balsamic vinegar
1 unpeeled orange, cut into 8 wedges
1 tablespoon unsalted butter
Directions
Preheat oven to 450 degrees. Season chicken with salt and pepper. In a large ovenproof skillet, heat oil over medium-high. Add chicken, skin side down, and cook until golden and crisp, 7 minutes. Transfer chicken to a plate and pour off fat from skillet. Return chicken, skin side up, to skillet and transfer to oven. Bake until cooked through, 10 minutes. Transfer chicken to a plate.
Heat skillet over medium and add vinegar and orange wedges. Cook, stirring and scraping up browned bits with a wooden spoon, until orange begins to soften, about 2 minutes. Remove from heat and stir in butter. To serve, return chicken to skillet and toss with orange and sauce.
Image and recipe source: Martha Stewart Everyday Food, November 2010
Stacked Roasted Vegetable Enchiladas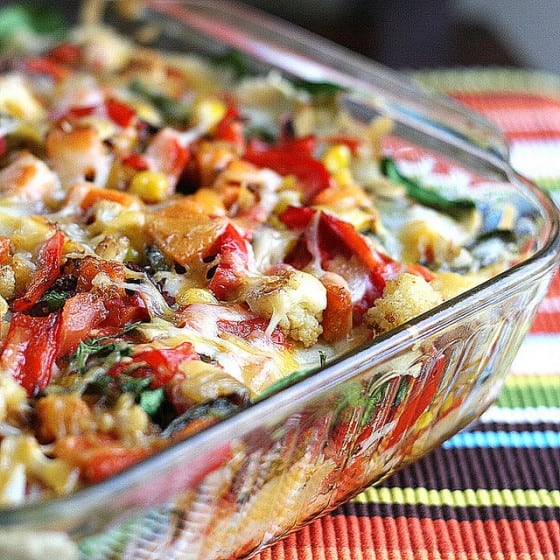 This is such a great dish. It's customizable. It's fairly healthy. (Hello, check out all of the veg!) And it's pretty. I love pretty food.

Any meal that starts out with a giant pan of roasted vegetables is a winner to me. The first time I made this, I thought it was a tad tortilla-heavy, so I boosted the amount of roasted vegetables, added some fresh spinach and made some thinner corn tortillas from scratch.

I love ooey-gooey, cheesy enchiladas, but I thought this fresher, lighter version was great as well. I avoided having to roll individual enchiladas, and it didn't put me into an enchilada coma for the rest of the evening. Very nice.
Feel free to switch out the vegetables or cheese for those you like, add some beans or shredded chicken of your family is particularly carnivorous, or even use flour tortillas if you don't have (or like) corn. Another great dish adapted from The Roasted Vegetable
by Andrea Chesman.

(No, I'm not getting sponsored to rave about her book. I would love it if she'd give me a dozen books to give away to you, though!)
ingredients:
1 poblano chile, cut into matchsticks
2 red bell peppers, cut into matchsticks
1/2 head of cauliflower, cut into 1/2-inch chunks
1 small sweet potato, peeled and cut into 1/2-inch cubes (about 1 1/2 cups)
1 medium onion, halved and slivered
1 cup corn kernels, fresh or frozen
3 T heat-safe oil like grapeseed or coconut
1 1/2 tsp ground cumin
2 garlic cloves, minced
salt and black pepper
1/2 cup chopped fresh cilantro
2 cups homemade or store bought salsa/pico de gallo
2 ounces baby spinach leaves (about 2 big handfuls)
9-10 corn tortillas, halved (try making homemade tortillas!)
2 cups shredded cheese (I used a cheddar-Monterey Jack blend)
sour cream and thinly sliced scallions (green onions) for garnish, if desired
directions:
Preheat the oven to 425 degrees F. Lightly oil a large shallow roasting pan or rimmed cookie sheet.
Place poblanos, red bell peppers, cauliflower, sweet potato, onion, and corn kernels onto cookie sheet. Drizzle olive oil and sprinkle the cumin and minced garlic over top. Add a generous pinch or two of salt and black pepper, then use your hands to mix everything together. After everything is coated well, spread the vegetables evenly in the pan. Roast for 30-40 minutes until vegetables are tender and begin to brown in spots. Stir or shake the pan every 10 minutes for even roasting. Remove pan from oven and reduce oven temperature to 350 degrees F.
Prepare an 8x8x2 or 9x9x2-inch square baking pan with nonstick spray. In a small bowl, stir the cilantro into the salsa. Spread 1/4 cup of salsa into the bottom of the baking pan. Add a layer of tortilla pieces, to completely cover the salsa. Top with 1/3 of the vegetables, a handful of spinach, and 1/3 of the cheese. Make a second layer of tortilla, salsa, vegetables, spinach, and cheese. Top with with a layer of tortillas, salsa, vegetables, and cheese. Cover with aluminum foil.
Bake for 20 minutes. Remove the foil and bake another 10 minutes, until cheese is melted and everything is heated through.
Let it sit for 5 minutes and cut into squares. Serve with sour cream and a sprinkle of sliced scallions.
Serves 4-5
Image and recipe source: Perry's Plate March 2011,
Tilapia and Quinoa with Feta and Cucumber
Protein will keep you full longer, and this recipe has two lean sources of it.
Prep Time 10 min
Total Time 30 min
Serves 4
Ingredients
1 cup quinoa
Coarse salt and ground pepper
2 1/2 teaspoons extra-virgin olive oil
1 pound boneless, skinless tilapia fillets, divided into 8 pieces
3/4 teaspoon paprika
1 cup English cucumber (6 ounces), diced small
1/3 cup roughly chopped fresh dill
1/3 cup feta (1 1/2 ounces), crumbled
2 teaspoons fresh lemon juice
Directions
In a small saucepan, bring quinoa, 2 cups water, and 1 teaspoon salt to a boil over high. Reduce to a medium simmer and cook until water evaporates, about 15 minutes. Transfer quinoa to a medium bowl and let cool 5 minutes.
In a large nonstick skillet, heat 1 1/2 teaspoons oil over medium-high. Pat fish dry and season with salt and pepper; sprinkle with paprika. Cook fillets until opaque throughout, about 4 minutes, flipping halfway through. Stir cucumber, dill, feta, 1 teaspoon oil, and lemon juice into quinoa. Season with salt and pepper. Divide quinoa among four plates and top with fish.
Henri's French Onion Soup
Serves 6
INGREDIENTS
3 pounds yellow onions, cut into 1/8-inch pieces
3 tablespoons unsalted butter
1/2 teaspoon table salt, plus more as needed
1 pinch sugar
8 cups water , plus more as needed
1 tablespoon all-purpose flour
1 sprig fresh thyme
1/4 cup dry white wine
1 baguette , crusty
8 ounces Gruyère cheese-I sliced it thick and placed it over the top of the crock…..the cheese melted mostly into the soup and a little off to the sides, but it created a thick, even layer this way.
INSTRUCTIONS
Melt butter in a large Dutch oven or soup pot over medium heat.
Add the onions, 1/2 teaspoon salt, and sugar. Toss to evenly coat.
Cover and cook for 10 minutes.
Take the cover off, and cook, stirring frequently, until the onions are lightly browned. I cooked mine for a little less than 90 minutes.
At this point, stir every 5 minutes and add water (a tablespoon at a time to loosen up the dark brown stuff that forms on the bottom of the pan).
Continue to cook until the onions are an even dark brown color, an additional 30 minutes longer or so.
Add the flour and stir for two minutes.
Add 8 cups water and thyme to the onions and bring to a boil.
Lower heat and simmer for 20 minutes.
Add white wine and simmer 10 minutes longer.
Add salt to taste.
Meanwhile, heat the oven to 325 degrees and adjust a rack to the upper middle position.
Cut the baguette into 3/4 inch slices and arrange on a single layer on a cookie sheet.
Bake until the bread is dry, about 10 minutes. Remove bread slices and set aside.
Heat broiler and place 6 heatproof bowls in a baking sheet. Fill each bowl with about 2 cups soup. Top each with two baguette slices and evenly distribute cheese slices over the bread. Broil until well browned and bubbly, about ten minutes. Cool for five minutes before serving.
Corned Beef and Cabbage Recipe
Prep time: 10 minutes
Cook time: 2 hours, 30 minutes
Corned beef is cured in a salt mixture, so it can be very salty, depending on the source. If the salt in your corned beef is an issue for you (some people like foods less salty than others) you might try bringing the corned beef to a boil in plain water first, discarding the water, and bringing it to a boil in plain water again, and again discarding the water, before proceeding with either of the cooking approaches outlined here, especially the baked version.
INGREDIENTS
Corned Beef (baked)
3 lbs corned beef (in package)
10 whole cloves
1/4 cup hot sweet honey mustard
2 Tbsp brown sugar
Corned Beef (boiled)
3 lbs corned beef (in package, including spice packet)
Cabbage (sautéed)
Olive oil
1 medium yellow onion, chopped
1 cloves garlic, minced
1 large head of cabbage, sliced into 3/8-inch to 1/2-inch wide slices
Salt
Cabbage (boiled)
1 large head of cabbage, sliced into 3/8-inch to 1/2-inch wide slices
Additional vegetables such as a couple carrots (cut to 1 inch pieces) or several new potatoes (quartered)
METHOD
Corned Beef (Baked)
Pre-step: corned beef can be very salty, especially when baked. To remove some of the salt before cooking, cover with water, bring to a boil, discard the water, add fresh water and bring to a boil again, again discarding the water. Then proceed.
1 Preheat oven to 350°F. Drain the corned beef from the package and discard the spice packet. Lay corned beef, fat side up, on a large piece of heavy duty, wide, aluminum foil (you may have to get creative with the way you wrap the beef if your foil isn't wide enough). Insert the cloves into the top of the slab of corned beef, evenly spaced. Spread the top with the hot sweet honey mustard. Sprinkle brown sugar over the top.
2 Wrap the corned beef with foil in a way that allows for a little space on top between the corned beef and the foil, and creates a container to catch the juices. Place foil-wrapped corned beef in a shallow roasting pan and bake for 2 hours.
3 Open the foil wrapping, spread a little more honey mustard over the top of the corned beef, and broil it for 2-3 minutes, until the top is bubbly and lightly browned. Let rest for 5 to 10 minutes, then place on cutting board and cut at a diagonal, across the grain of the meat, into 1/2-inch thick slices.
Serve immediately.
Serves 5.
Corned Beef (Boiled)
1 Place corned beef in a large (6 to 8 quart) pot. Cover the beef with an inch water. Add the contents of the spice packet to the water. Bring to a boil, reduce heat to a simmer. Simmer for 2-3 hours, until the corned beef is fork tender. Remove from pot to a cutting board. (Reserve cooking liquid for boiling cabbage, if you plan to boil and not sauté the cabbage.) Cut slices against the grain, into 1/2-inch thick slices. Serve.
Cabbage (Sautéed)
1 Heat 2 Tbsp olive oil (enough to well coat the pan) on medium high to high heat in a large, wide pot (8-quart if available) or large, high-sided sauté pan. Add chopped onions, cook for a couple of minutes, then add garlic.
2 Add a third of the sliced cabbage to the pan. Sprinkle with a little salt and stir to coat with oil and mix with onions. Spread out the cabbage evenly over the bottom of the pan and do not stir until it starts to brown. If the heat is high enough, this should happen quickly. The trick is to have the burner hot enough to easily brown the cabbage, but not so hot that it easily burns. When the bottom of the cabbage is nicely browned, use a metal spatula to lift it up and flip it, scraping the browned bits as you go.
3 Once the cabbage in the pan has browned on a couple of flips, add another third of the cabbage to the pan. Mix well, then spread out the cabbage and repeat. You may need to add a bit more olive oil to the pan to help with the browning, and to keep the cabbage from sticking too much to the pan. Once this batch has cooked down a bit and browned, add the remaining third of the cabbage and repeat.
Serve with the corned beef. Serve with boiled new potatoes. Can be made ahead and reheated.
Serves 5.
Cabbage (Boiled)
1 Once you have removed the corned beef from the pot, add the cabbage and any other vegetables (carrots, new potatoes) to the pot. Taste the liquid. If it is too salty, add more water to the pot. Raise the heat until the liquid is simmering well. Simmer until the cabbage and any other vegetables are cooked through, 15-30 minutes.
Place vegetables in a serving bowl, add a little of the cooking liquid to the bowl.
Penne with Smirnoff Vodka Sauce
Yield: 6 cups
Prep Time: 5 minutes
Cook Time: 20 minutes
Ingredients
1 quart store-bought marinara sauce, blended until smooth*
1 cup Smirnoff vodka
1/2 cup heavy cream, at room temperature
1/2 cup grated Parmesan
1 pound semolina penne (fresh or dried)
*Optional-make your own sauce
Simple Tomato Sauce:
1/4 cup extra-virgin olive oil
1 small onion, chopped
2 cloves garlic, chopped
1 stalk celery, chopped
1 small carrot, chopped
1 (32-ounce) can crushed tomatoes
4 to 6 basil leaves
1 dried bay leaf
Sea salt and freshly ground black pepper
In a large sauté pan, heat olive oil over medium-high heat. Add onion and garlic, sauté until soft and translucent, about 2 minutes. Add celery and carrot and season with salt and pepper. sauté until all the vegetables are soft, about 5 minutes.
Add tomatoes, basil, and bay leaf and reduce the heat to low, simmer for 45 minutes or until thick. Remove bay leaf and taste for seasoning. If sauce tastes too acidic, add a touch of sugar, 1 teaspoon at a time, to round out the flavor.
Pour the tomato sauce into the bowl of a food processor. Process until quite smooth.
Directions
Simmer the tomato sauce and vodka in a heavy large skillet over medium-low heat until the mixture reduces by 1/4, stirring often, about 15 minutes. Stir the cream into the tomato and vodka sauce. Simmer over low heat until the sauce is heated through. Stir in the Parmesan cheese until melted and well blended.
Meanwhile, cook the pasta in a large pot of boiling salted water until ala dente, tender but still firm to the bite, stirring occasionally, about 8 minutes. Drain the pasta and transfer it to the pan with the sauce, and toss to coat.
Image and recipe source: iFood

xoxo,
krystina